Don't Make These

5 Sales Funnel Mistakes
---
If you sell online or generate leads, you definitely have a sales funnel. In fact, companies that simplify the buying process are 62% more likely to win a quality sale. The only question is, how effective is your funnel?
In digital marketing, the number of people lost at each stage of the funnel is truly gigantic. Even if you are the proud owner of a high-quality product and an established customer base, you still may fail. In this article, we will point out the most common mistakes that businesses make when building a sales funnel. But first, let's define the sales funnel concept.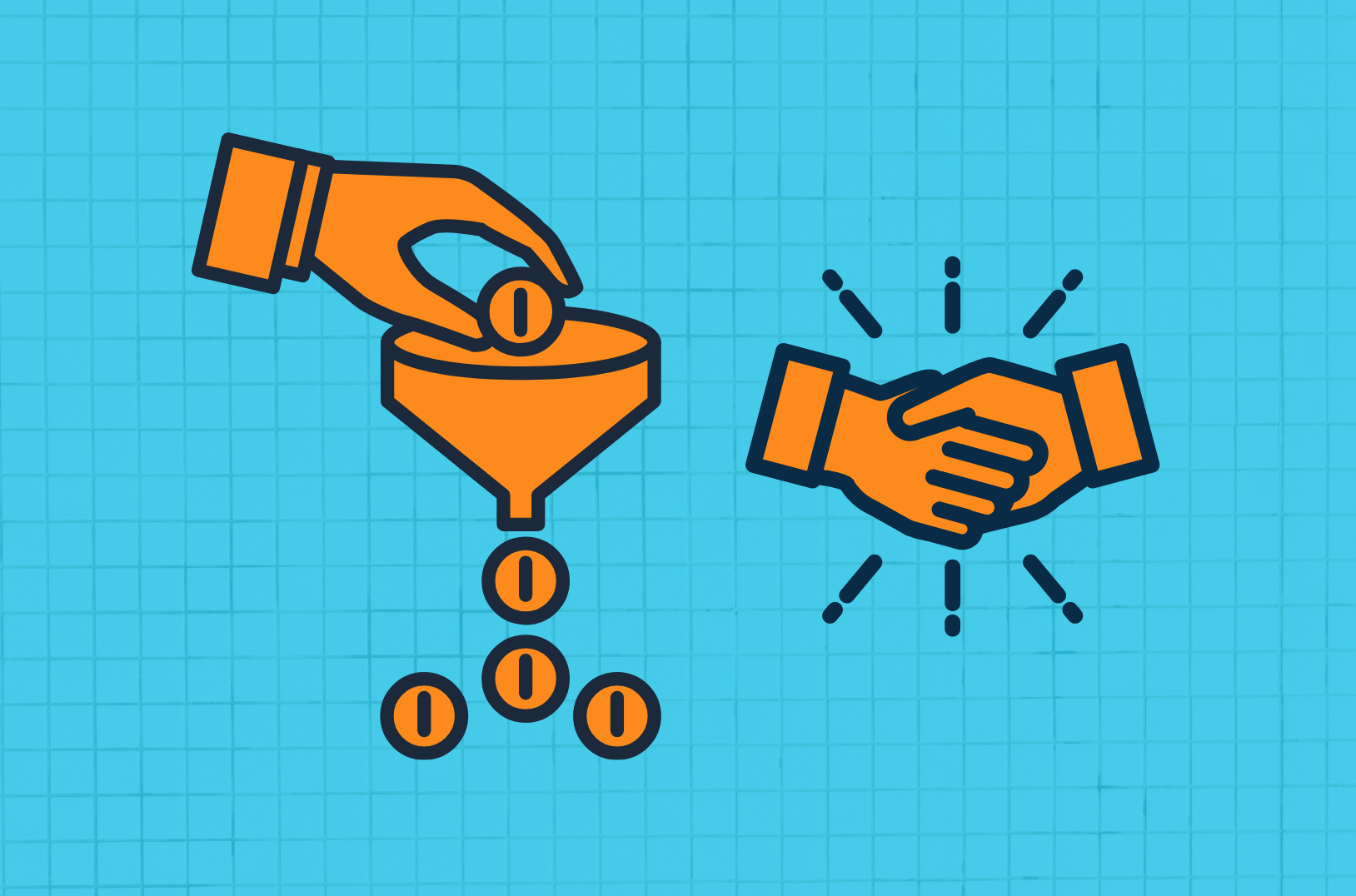 What Is A Sales Funnel?
A sales funnel is a customer-oriented marketing model that illustrates a theoretical journey to purchase a product or service. By understanding all the steps a customer takes, you can control his behavior, gently stimulating interest and encouraging them to buy.
The point of applying the concept of a sales funnel is to identify the main stages a customer goes through before making a purchase, and then build communication with the client, taking into account what decisions he made at each stage.
Here's a basic scheme of a typical sales funnel: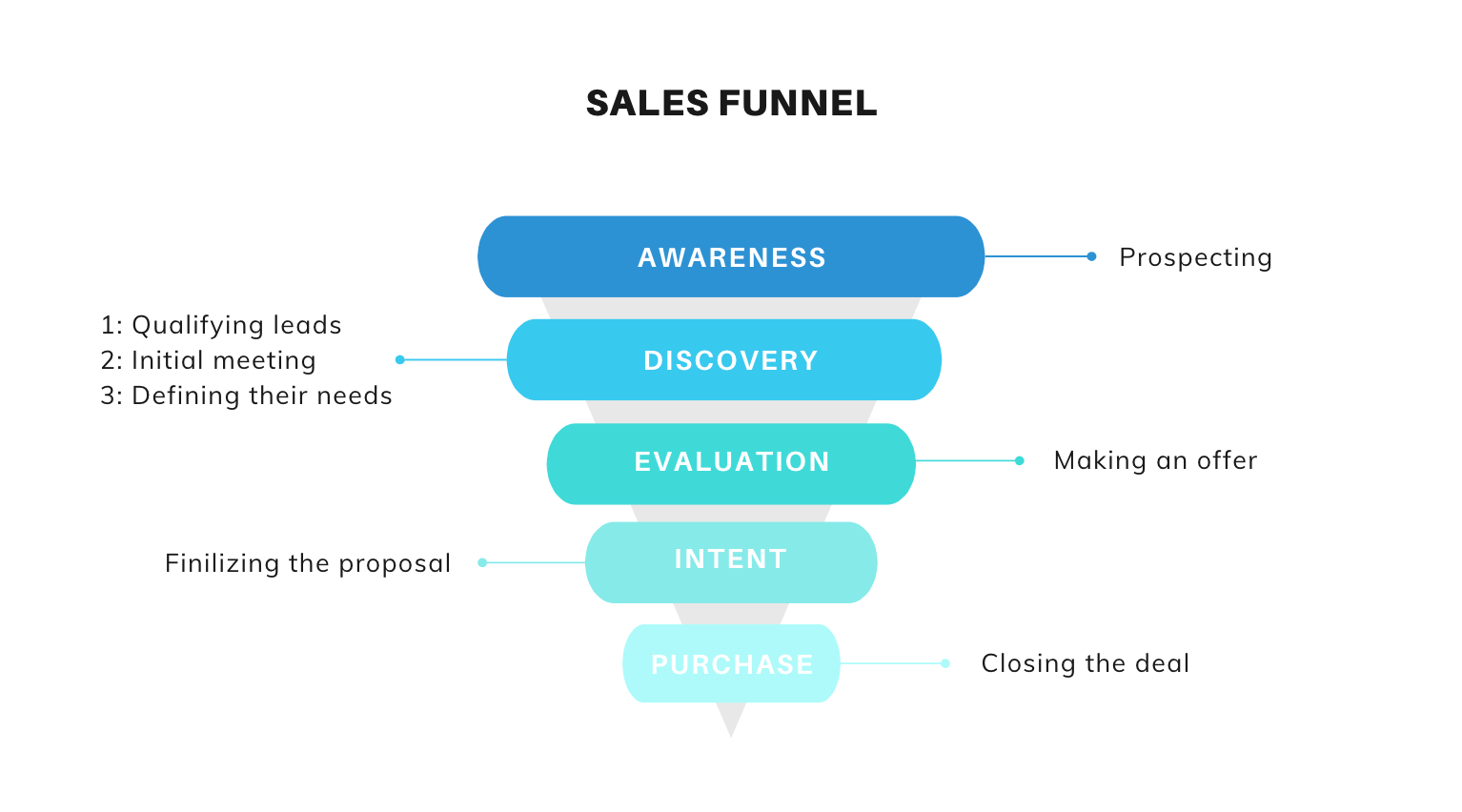 Now onto the most common mistakes businesses make when setting up their sales funnels:
Mistake #1.

Too Many Stages In The Funnel
Before taking a target action, people always think it over carefully. In most cases, more than 50% of your visitors refuse to take any action (usually 80-90%). This means that they:
Don't click on an ad or link.

Don't subscribe to your email newsletter.

Don't put anything in the basket.

Don't place an order.

Don't make a purchase.
Having large sales funnels with too many steps means more people will be lost in the process. This can confuse your customers, divert unnecessary attention, and lead to a lack of urgency. Fewer steps with high-quality messaging work much better.

Mistake #2.

Attracting the Wrong People to Your Sales Funnel
A common mistake many business owners make with their funnel is trying to target an audience that is too wide. They are concerned that with a narrow focus they will not touch upon the people who could potentially make a purchase, however, building a wide targeting network often appeals to literally no one.

Mistake #3.

Poor Design And Copy
Your landing page is the "entrance" to your sales funnel. This is one of the first things your customers will encounter, so making a good first impression is important.
Thus, you need an eye-catching design, a high-quality copy, and a clear, visible call to action.
Let's talk about the design first. It creates an overarching image of your company and your product. Basically, design is what your customers will see firsthand. Your landing page design should:
Be simple, user-friendly, and clutter-free.

Have important parts of the page bright and highlighted.

Have white space to help the text stick out.

Highlight the headline, call to action, and anything else that needs to be highlighted

Avoid distracting graphics and menus that don't add value.
Moving further, you should create engaging copies. They should:
Have an attractive headline that grabs attention.

Focus on the benefits of your products and services.

Not have excessive technical specifications and details, only the most important things.

Have a very powerful, particular call to action.

Mistake #4.

Not Diversifying Your Traffic Channels
Paid traffic helps, and that's crucial for new projects. But not all paid advertisements will benefit you. Thus, you will need cheaper traffic.
This means you need to be mindful of SEO and social media posts. This, in turn, means you need to create quality content. You should create something that will benefit your potential clients for free. It may potentially bring you a lot of fans, some of whom will subscribe to your email newsletter and eventually make a purchase.
However, you need to learn how to create content that not only gets a lot of shares and comments but is also capable of selling.
NOTE: The StoryFunnel Workshop was specially created to meet the needs of experts willing to share their message across the world. We know how to build a funnel that will reach your quality clients. Apply here to join the program.

Mistake #5.

Inconsistent Follow-Up
On average, it takes from six to eight contact points before a potential customer can be considered "eligible" for a sale.
With the help of a sales funnel, you can automate many of these touchpoints. You can set up a path in which your prospects receive your emails and are prompted to subscribe to your webinar or watch your video. It's a great way to make your business more human and build close ties with prospects.
However, some products and services require a personalized approach to clients, for example, high ticket ones. One of the ways of personalization is scheduling one-to-one consultations or discovery calls. In such a way, you can answer potential questions and cover concerns that may arise.



Funnel Building Services By James Cook Media
If you have a product or service that you are passionate about, let us help you implement all the strategy, writing, and technology needed to get your message across to the world.
At StoryMatters Academy by James Cook Media, we have created the special StoryMatters Workshop to help you tell your story through your online funnel.
Together we can do it all in 2 months with the world's best StoryTelling experts, SanityDesk marketing software, and a dedicated team of digital marketing professionals.
Click here to learn more about this unique opportunity.



Final Thoughts About Sales Funnels Mistakes
If you have recognized yourself and your company when reading this article, don't wait to fix these mistakes. If you are still planning your funnel, make sure to avoid them. James Cook Media is on the guard of our clients' businesses growth by unlocking the power of Story Funnels. We know how to make them work. Apply to join our StoryFunnel Build Program now!
---
Build a Marketing Strategy for your Story-Based Funnel
2 х 180-minute amazing video training, StoryTelling Welcome sequence, 1-on-1 Strategy Call, 8 Funnel Blueprints, Resource guide & much more…
$563 in Value, JUST $27 USD!