---
We live in the age when the principles that the organization adheres to become more important than the products. Russia's war against Ukraine has shaken the whole world. This is a turning point in the world history.
How exactly these events can affect business, why business can't be out of politics and how this impacts the company's reputation – find out in this article.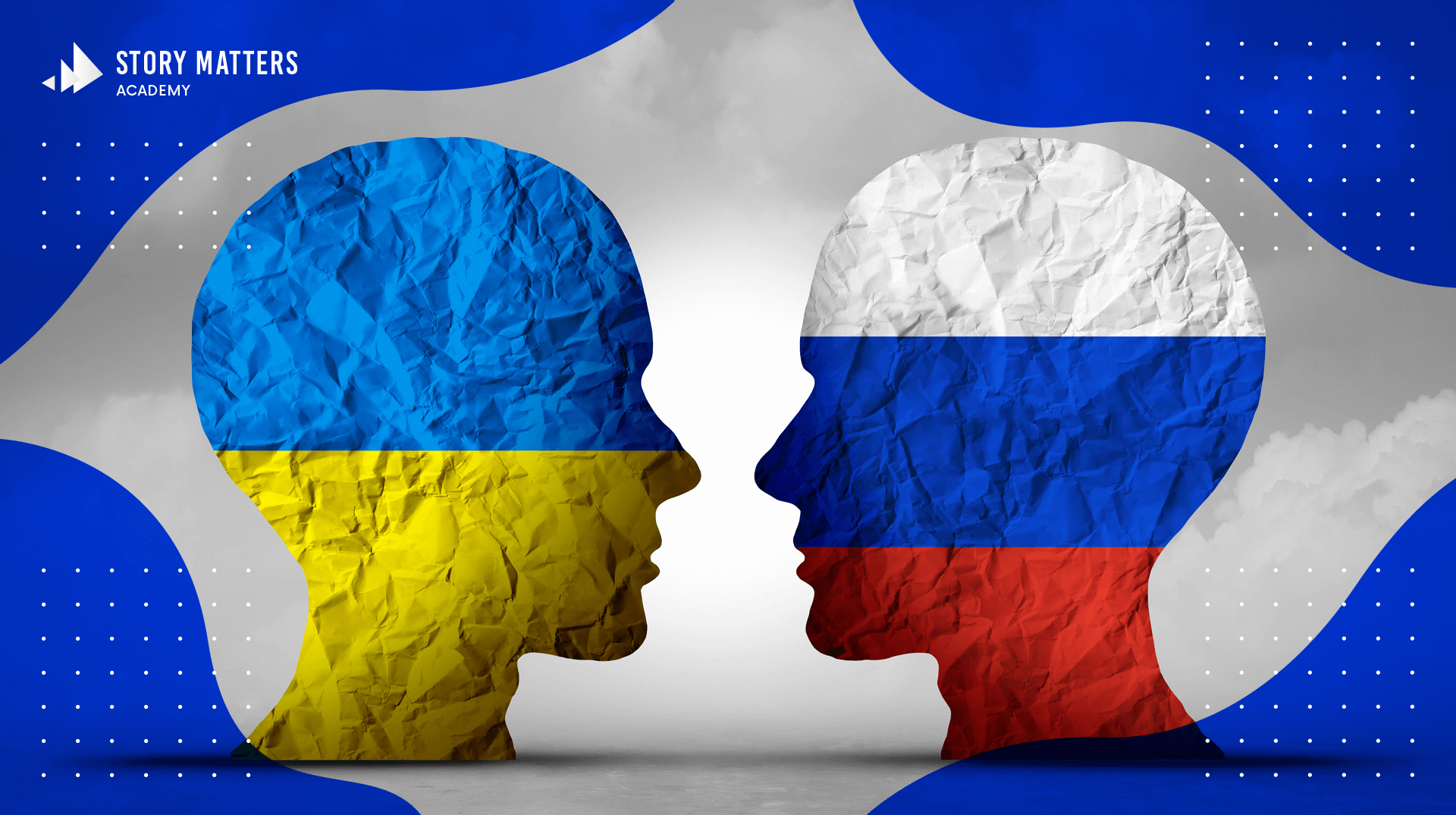 Importance of the Reputation
Reputation is an important part of any business. According to Bright Local research about the impact of reading reviews on local business purchasing decisions, positive reviews persuade 68% of consumers to choose a brand, and negative reviews stop 40% of consumers.
With the development of digitalization, exchange of information, feedback and ratings, reputation management has become a necessary component for a company of any size and any segment.
Reputation solves the following tasks:
Forms a positive image

Increases brand awareness among the target audience

Increases consumer loyalty to the brand

Creates new advantages of the brand over competitors in the eyes of the user
Reputation reduces the time to gain the trust of the client, saves on advertising, helps to thrive in competition, becomes a powerful factor in corporate patriotism of staff, and stimulates the attractiveness of business for investment.
Why Can't Business Be Out Of Politics?
No business can exist apart from the state. Decisions made by the government can significantly affect the development of the company. As well as the companies themselves can affect the economy of the country in which they do business.
Due to the aggression against Ukraine, more than 1,000 international companies have left Russia in the last two months. Tens of thousands of Russians have lost their jobs, and millions have lost access to quality and high-tech goods. All this has hit the Russian economy hard.
However, there are companies that intend to stay in Russia. Despite sanctions and war, they continue to serve the Russian market.
Russia spends on the army about 15% of the state budget and even more to support the dictatorial regime. Therefore, when these companies pay taxes to the Russian budget, they finance its armed forces and shelling of Ukrainian cities. This proves that no business can be outside politics.
Negative impact on the reputation
Companies such as Nestle, Leroy Merlin, Auchan and Metro have stated that they are not going to leave the Russian market. Because of it they already have reputational damage and financial losses. People around the world are boycotting these brands.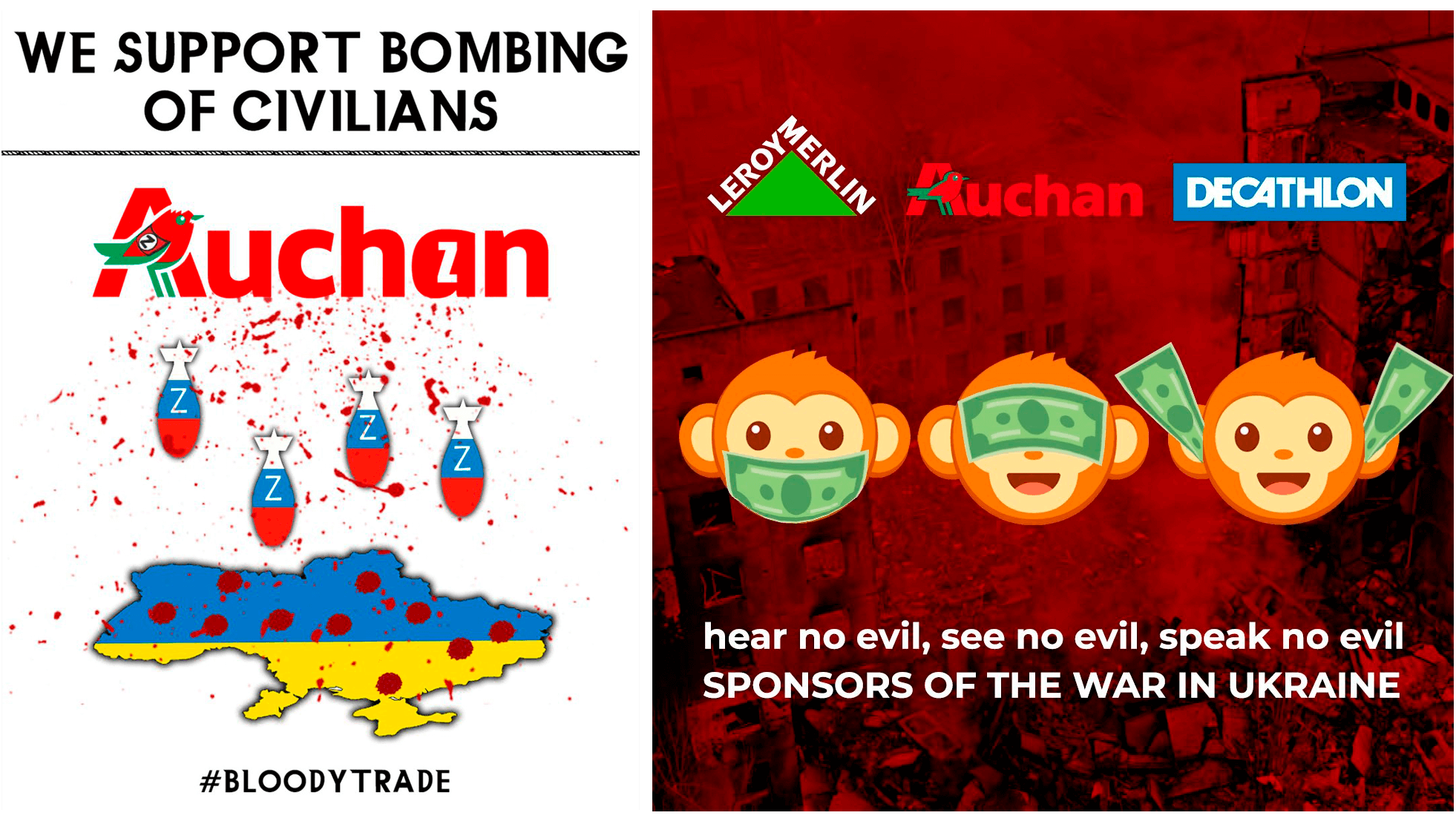 A flash mob under the hashtag #bloodytrade has even been announced on social media. The aim of this campaign is to convey to the general public what lies behind the refusal to stop its business in Russia. And also to call not to buy the goods of these companies and to create social pressure on the company, which may force them to change their decisions.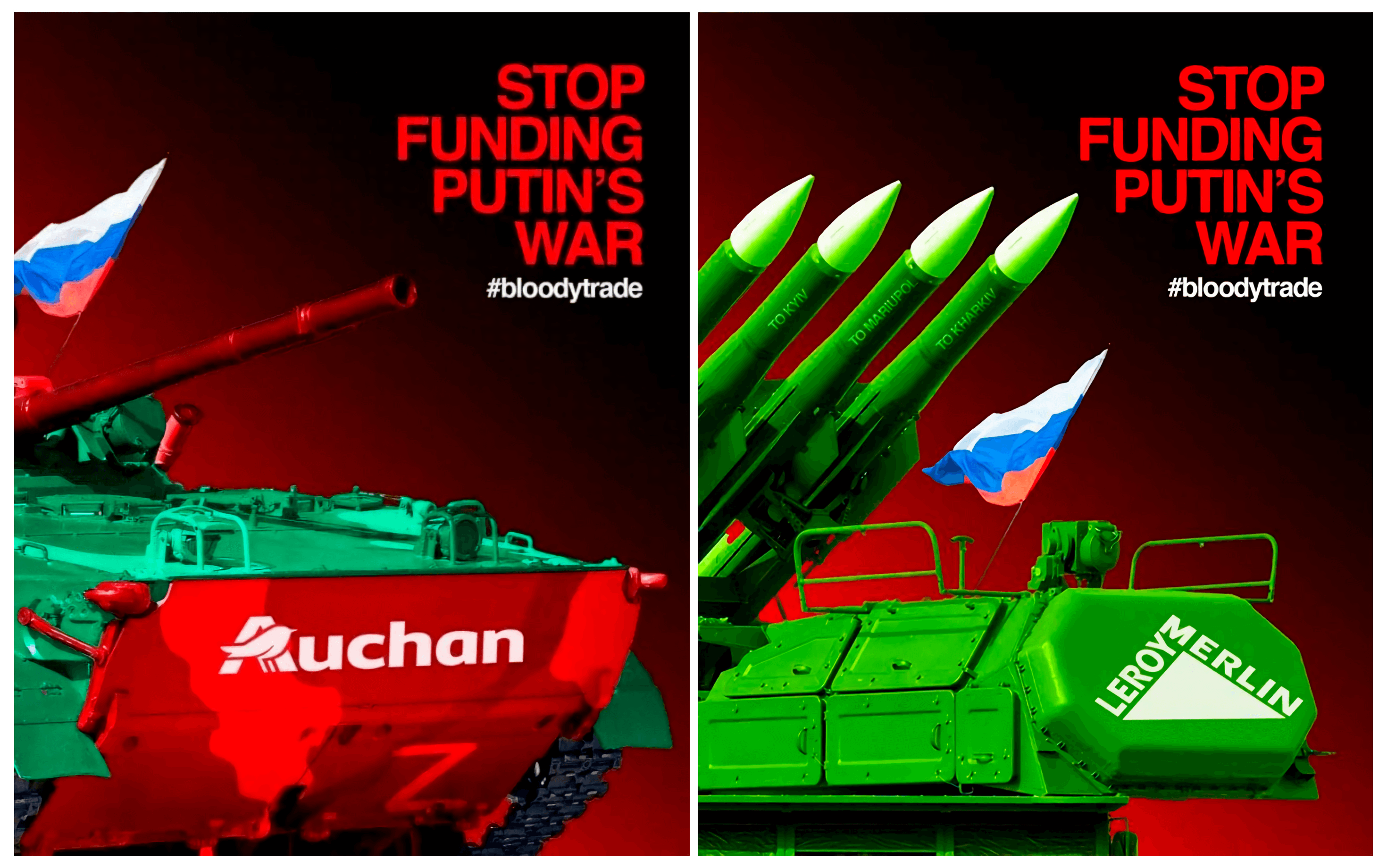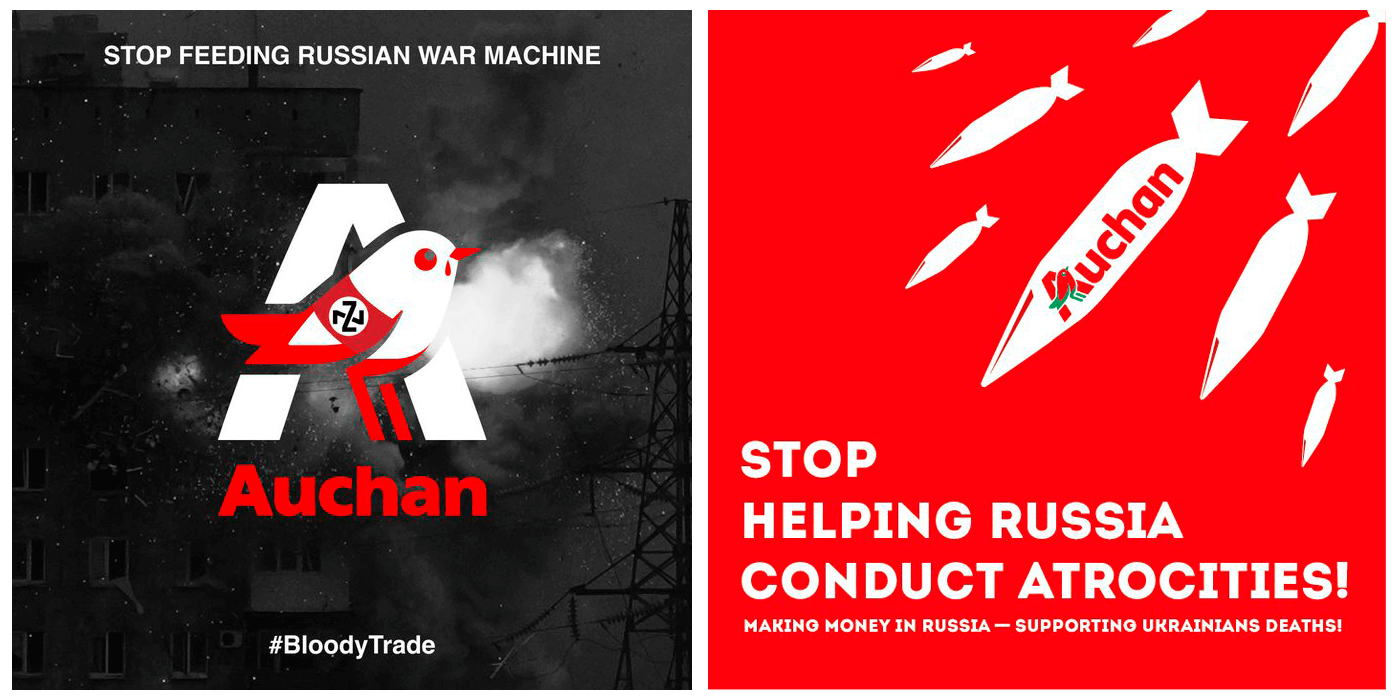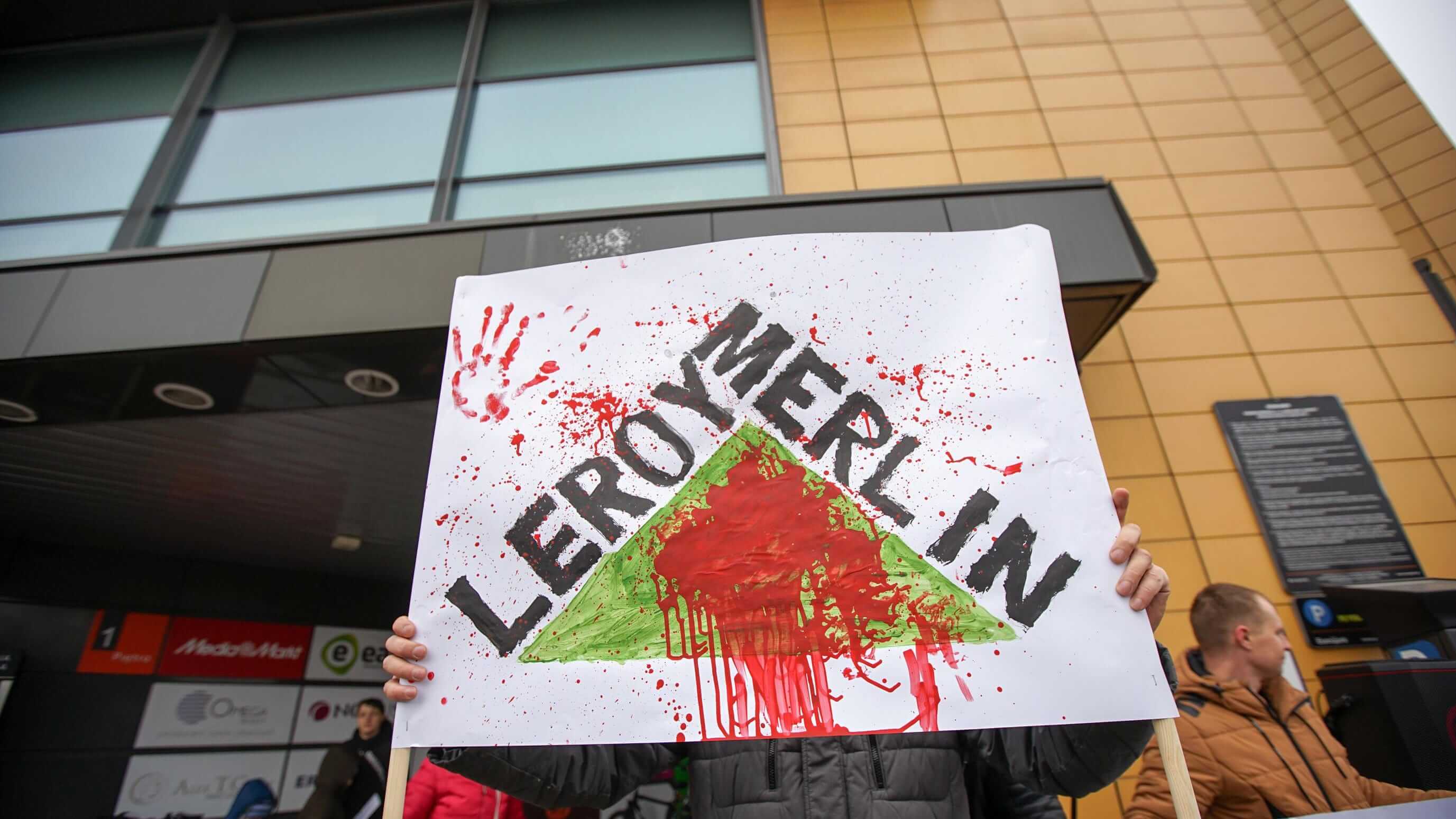 Protests against these companies are also being organized around the world. Although it is too early to calculate the specific losses due to their political position, it is safe to say that an image blow is inevitable for them.
How Can Business Express Its Political Position?
Ban All Russian
If you don't want such a shameful attitude toward your business, it's better to take some measures. In short, support Ukraine and ban all Russian. Don't buy Russian products, don't use Russian services and of course, don't work with the Russian market. The refusal of all Russian may be the basic level of showing your business political position.
Make Donation
The next step may be the financial support of charitable organizations created to help people from Ukraine. And though there are dozens of such organizations, we recommend sending money only to verified projects. That you can find on this website.
It is also maybe a donation to help the Ukrainian army. You may send some part of the profits from every purchase made in your company. Make your clients proud that they are YOUR clients. As they would know that buying your products or using your services they become a part of global Ukrainian support.
Cut Prices for Ukrainian People
Another way to express the brand's political position is to provide discounts on your products or services for people from Ukraine. Let them know that your company cares about clients and won't let them alone in such hard times for them.
Information Support
Show your support on social media and on the company's pages. It can be a post or series of posts about your help to Ukraine. And even if you couldn`t give financial support, you may help informationally. Spread information about how everyone can join to help Ukrainians. Make reposts from organizations which gather money or other things for Ukraine.
Humanitarian Help
And the hardest level of expressing your political position is sending humanitarian supplies. Behalf of your company you may organize a collection of necessary stuff, that now in lack in Ukraine. Or join existing organizations that already know how to ship such goods.
Conclusion
By expressing your business political position you may build the image of the not indifferent company. That doesn't close its eyes to the horrors of war and not only understand how it is awful but doing specific actions to end it all soon.
In this way, you can improve the company's image and stand out from the competition. People are more inclined to give their money to those companies that invest in socially significant projects and aim not only at profit. So, be kind and #StandWithUkraine.
---
Build a Marketing Strategy for your Story-Based Funnel
2 х 180-minute amazing video training, StoryTelling Welcome sequence, 1-on-1 Strategy Call, 8 Funnel Blueprints, Resource guide & much more…
$563 in Value, JUST $27 USD!