---
Content is a vital component of a marketing complex. The main goal of a content marketing strategy is to engage a specific audience and motivate them to make a purchase. It also allows businesses to "humanize" their brand, which helps strengthen customer loyalty and increase their lifetime value (LTV).
Content marketing is especially crucial for small businesses or startups, in the absence of a significant advertising budget. However, many large brands don't neglect content marketing, making tangible profits from it.
Keep reading to learn about the role of content marketing in an online sales process, as well as which types of content are most suitable for each stage of a sales funnel.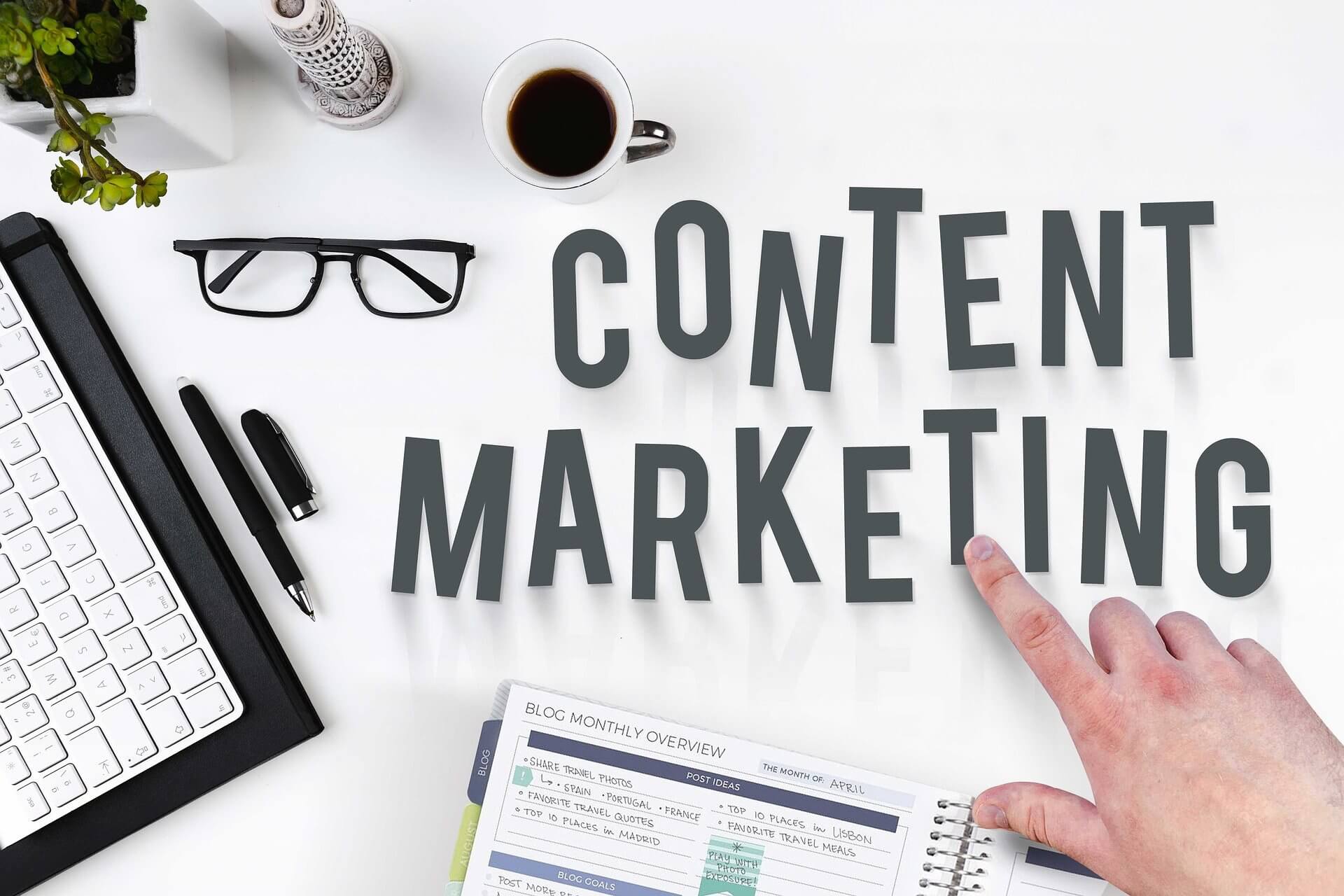 A content marketing funnel is a system that helps a brand attract leads. Along the funnel, the customer promotes from the first encounter with a product/service to purchase.
Marketing experts identify 5 stages of the funnel: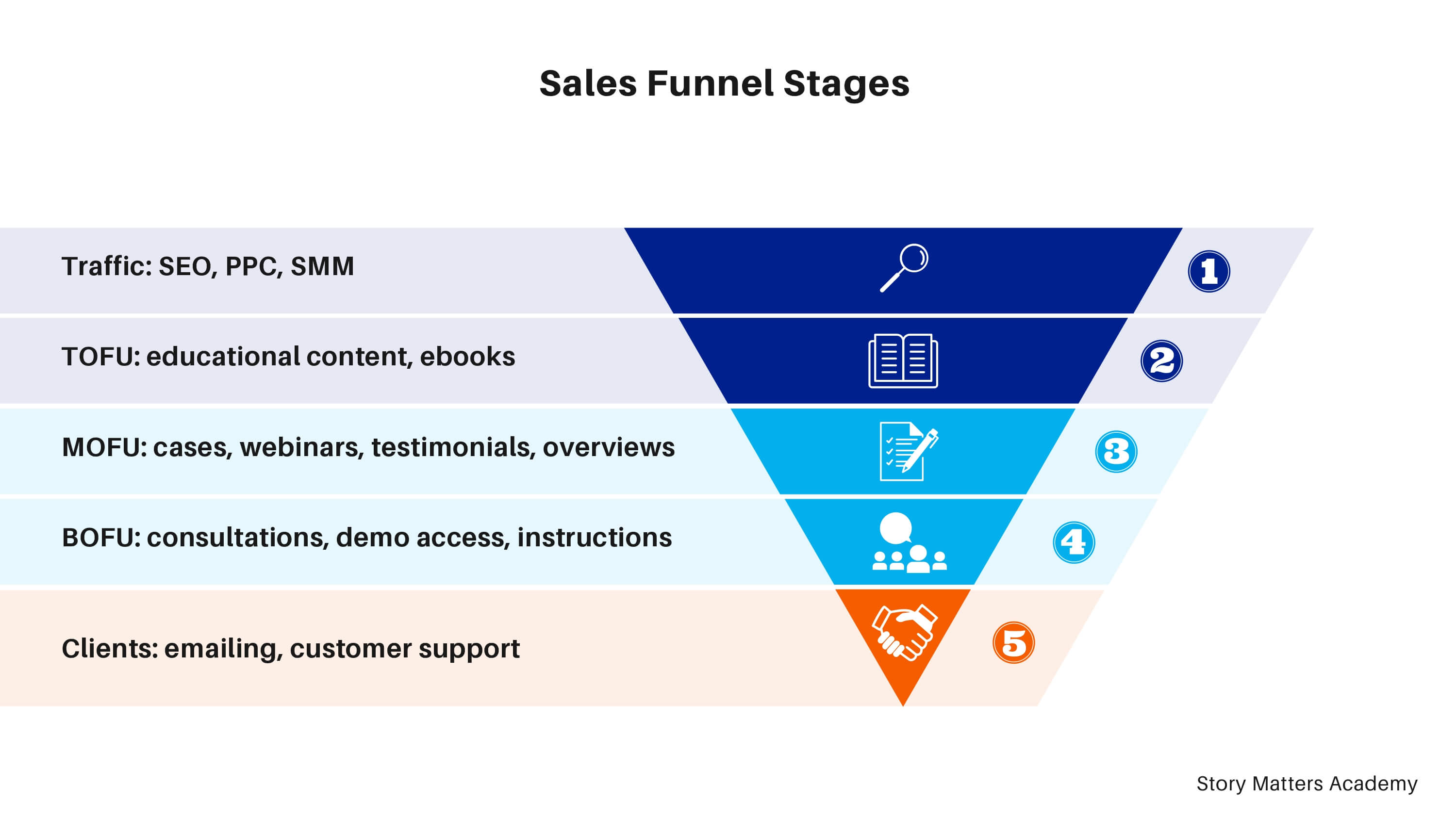 Traffic generation.

Converting traffic into leads. After users come to the web resource, they are taken to the top of the sales funnel - TOFU.

Lead nurturing. It takes place in the middle of the sales funnel - MOFU. After a person has registered or filled out an application, he may not yet be ready to make a purchase. Your task is to establish contact with him and develop his desire to become your client.

Converting leads into customers. At the bottom of the funnel - BOFU, the lead is close to becoming a customer.

Maintaining contact. Letting the customer go after the sale is a big mistake. Keeping in touch requires special offers, tips, newsletters, etc.
At each stage, the wishes and needs of the user differ. This means that your content should serve different purposes.
The key question you must answer as a marketer is what content will satisfy your customers' needs at a particular stage in the funnel?
Driving traffic and TOFU
According to Adweek, 81% of shoppers do online research before making a purchase. One of the most effective ways to grab their attention is to distribute optimized, well-written content.
At the acquisition stage and the top of the funnel, content should be focused on solving the problems your target audience is facing. It may be some kind of entertaining content, business content, or educational. The key is NOT to sell anything using content yet.
Tutorials, videos, eBooks, and blog posts will help you get leads here.
MOFU
People in the middle of your sales funnel are more likely to search for you through content that presents you as an expert in the industry. Thus, content in the middle of the sales funnel should be specific to your business, product, and brand. Your task is to help the user with making a purchase decision. It's necessary to talk about the opportunities that will open up to the client when using your product, about the characteristics of the product, and its benefits.
This is why the most effective types of content in the evaluation stage are all kinds of guides, webinars, chats, reports that compare your features and advantages to competitors, demo videos, detailed product descriptions, and reviews.
BOFU
The content at this stage is all about selling, without hidden meanings and intentions.
An accurate description of the transaction process, detailed technical documentation are what you need at this point. The client must understand how your product will help specifically in his case - professional consultations and access to a demo version of a product/service, case studies, use cases, and emails may be very helpful.
Maintenance
The goal of this stage is to retain and nurture brand advocates with the purpose of recurring sales.
Keep in touch with helpful newsletters, special promotions, and event invitations. Effective content execution at this stage will also help gain new customers through referrals.
Conclusion
Successful content marketing is impossible without targeted content creation for each stage of the sales funnel. Create content that engages, retains, and transforms your audience, and conversions will not leave you waiting.
Download James Cook Media Content Types Checklist
---
Build a Marketing Strategy for your Story-Based Funnel
2 х 180-minute amazing video training, StoryTelling Welcome sequence, 1-on-1 Strategy Call, 8 Funnel Blueprints, Resource guide & much more…
$563 in Value, JUST $27 USD!