---
Digital transformation has affected all types of businesses after the events of 2020. According to McKinsey, the global pandemic has greatly accelerated the pace of change. The spread of e-commerce hit the 10-year mark in just 3 months. And 60% of companies across all industries have witnessed new buying behavior over the past year.
We have collected current digital marketing trends that will guide your marketing strategy and give you an edge over your competitors.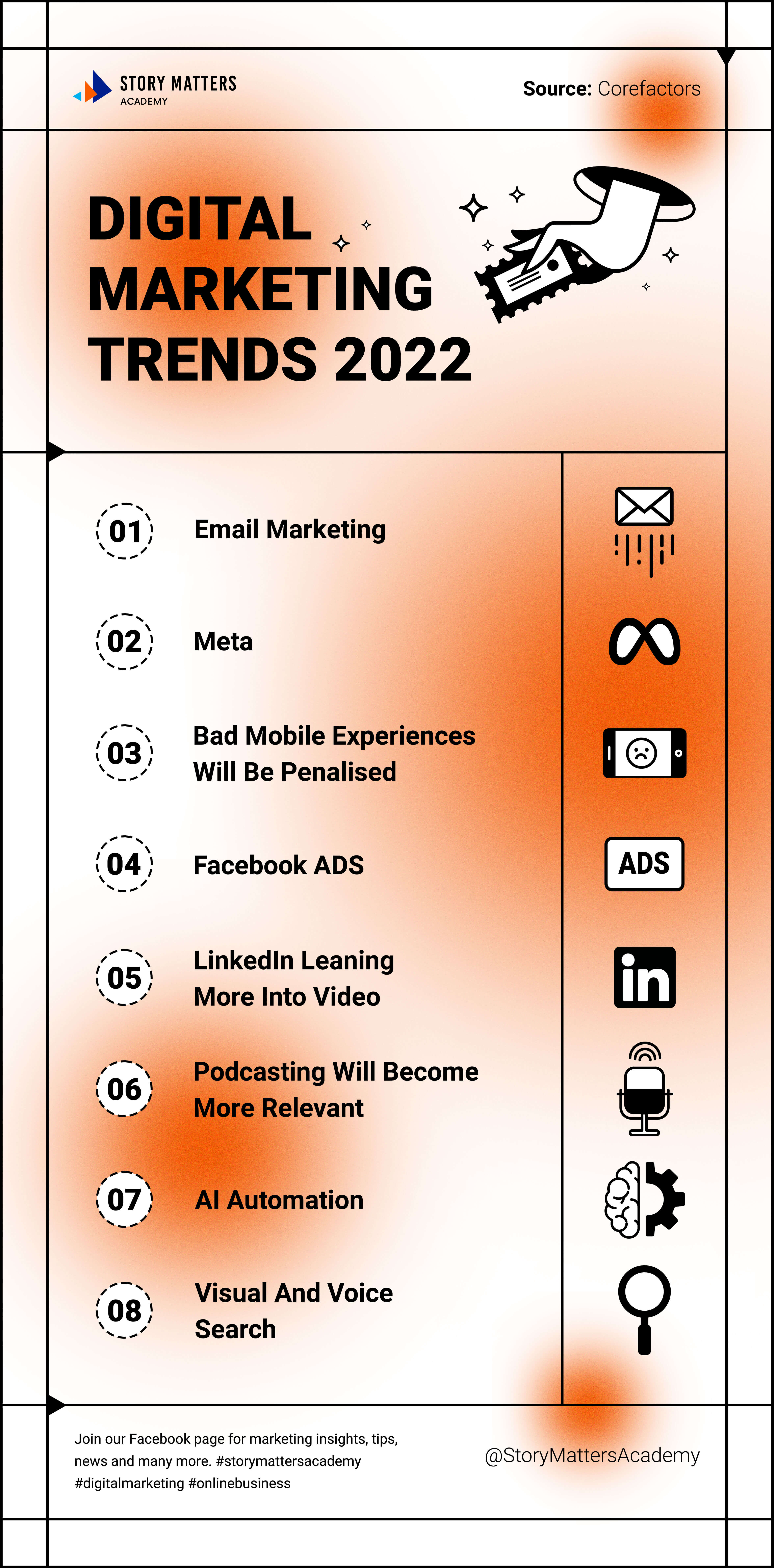 But first, let's find out…
What Are Digital Marketing Trends And Why They Are Important?
According to Gartner Glossary, Digital Marketing Trends are key changes in the strategic direction of the digital marketing landscape (including the evolution of marketing techniques, consumer sentiments, and underlying technologies) that impact the way marketers should interact with their target audience.
In the past, an effective marketing tactic has been to use the right promotion platforms. It was enough to focus on a specific audience or demographic when launching ads, use keywords and hashtags on social networks, and set up retargeting where possible.
Marketing in 2022 requires business owners to be willing to take risks. Now it is necessary to invest not only in advertising campaigns but also in brand building. Study customer interactions online more closely than ever before. And also be prepared to face difficulty, as competition continues to grow at an unprecedented pace.
For effective digital marketing, you need both long-term thinking and short-term quick results. Therefore, powerful storytelling is important to the company's success more than ever.
---
NOTE: Join Storytelling In Digital Age Masterclass to learn how correctly use storytelling for building your company's brand!
---
Below you'll find the digital marketing trends which are relevant now and in the near future.
#1.

E-mail Marketing
Despite the rapid development of technology and new tools, e-mail marketing doesn't give up. It is still one of the most effective areas of digital marketing. Moreover, its general use continues to grow every year. The number of global email users will rise to 4.48 billion users by 2024.
And this is not surprising, because email marketing has the highest return on investment for small businesses. Even giant companies choose it as the main communication channel of digital marketing strategy.
For example, Amazon's email strategy provides the company with a steady increase in profits. The secret to such success is in the use of modern technologies and understanding the needs of the audience.
The Latest Trends In E-mail Marketing are:
Personalization

Artificial Intelligence and Chatbots

Using users content

Interactive emails

Newsletters

Minimalism

Adaptation of letters for mobile devices
Pay attention and implement into your email strategy at least a few of the points written above. But if you use all of them, the quality of your e-mail campaigns will high up to a new level. Therefore, the profit from emails will rise.
#2.

Metaverse
At the end of October 2021, Facebook founder Mark Zuckerberg announced a new stage in the company's development, including the expansion and renaming of the tech giant to Meta Platforms, Inc. Which "reflects its focus on building the metaverse". According to Meta, the "metaverse" refers to the integrated environment that links all of the company's products and services.
Most experts are inclined to believe that the creation of the metaverse will be an inevitable step in the convergence of humanity and technology. It will become an evolutionary combination of reality and virtuality.
For example, Roblox hosted Gucci Garden, a place where visitors could try on and buy digital Gucci products to dress their avatars. Its aim was to raise brand awareness amongst younger consumers.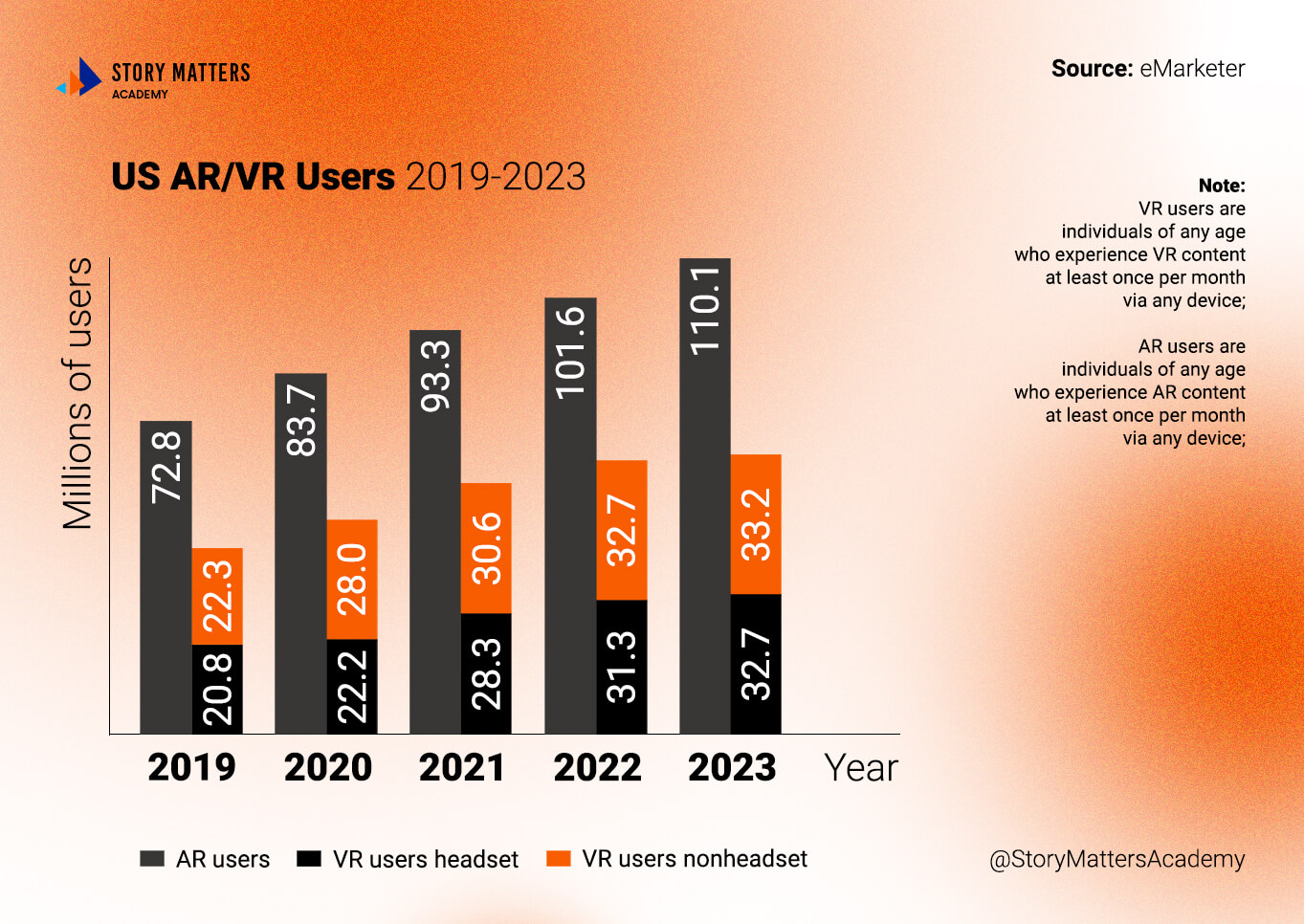 According to eMarketer research, there will be 65 million people that use VR and 110 million using AR every month in 2023. That's a lot of potential young customers to have in one space.
#3.

Bad Mobile Experiences Will Be Penalised
Mobile devices now generate about half of all website traffic globally. Obviously, usage of mobile web will only grow in the future.
According to Google, 79% of people are more likely to revisit a site if the mobile version is easy to use. That's why mobile optimization is a must-have for your website in 2022.
Site performance can impact user experience and can affect your conversions. If visitors do not have a great experience when visiting your site on their mobile, then your organic rankings will suffer too.
The Mobile version of the website must be responsive, have a high page speed, no pop-ups or other aspects that can be an annoyance for mobile users.
In order for a website will rank higher on Google, make sure it's both mobile-friendly and indexed for mobile use. Take a look at this mobile-indexing outline from Google for more information.
#4.

Facebook Ads
Since Facebook is the most populous social platform, it's also the one with the highest potential ad reach —2.11 billion people, or 72.5% of their total 2.91 billion monthly active users.
Facebook's ad revenue saw a 56% increase during 2021 alone, reaching a total of $28.6 billion. As social media ads grow, organic reach gets harder to come by, meaning optimization and strategy are key to seeing meaningful returns.
That's why it's not enough just to be on Facebook and have your company's page there. Facebook ads can provide a pool of new opportunities to grow your business. For example, it can increase your brand awareness, website traffic or conversions.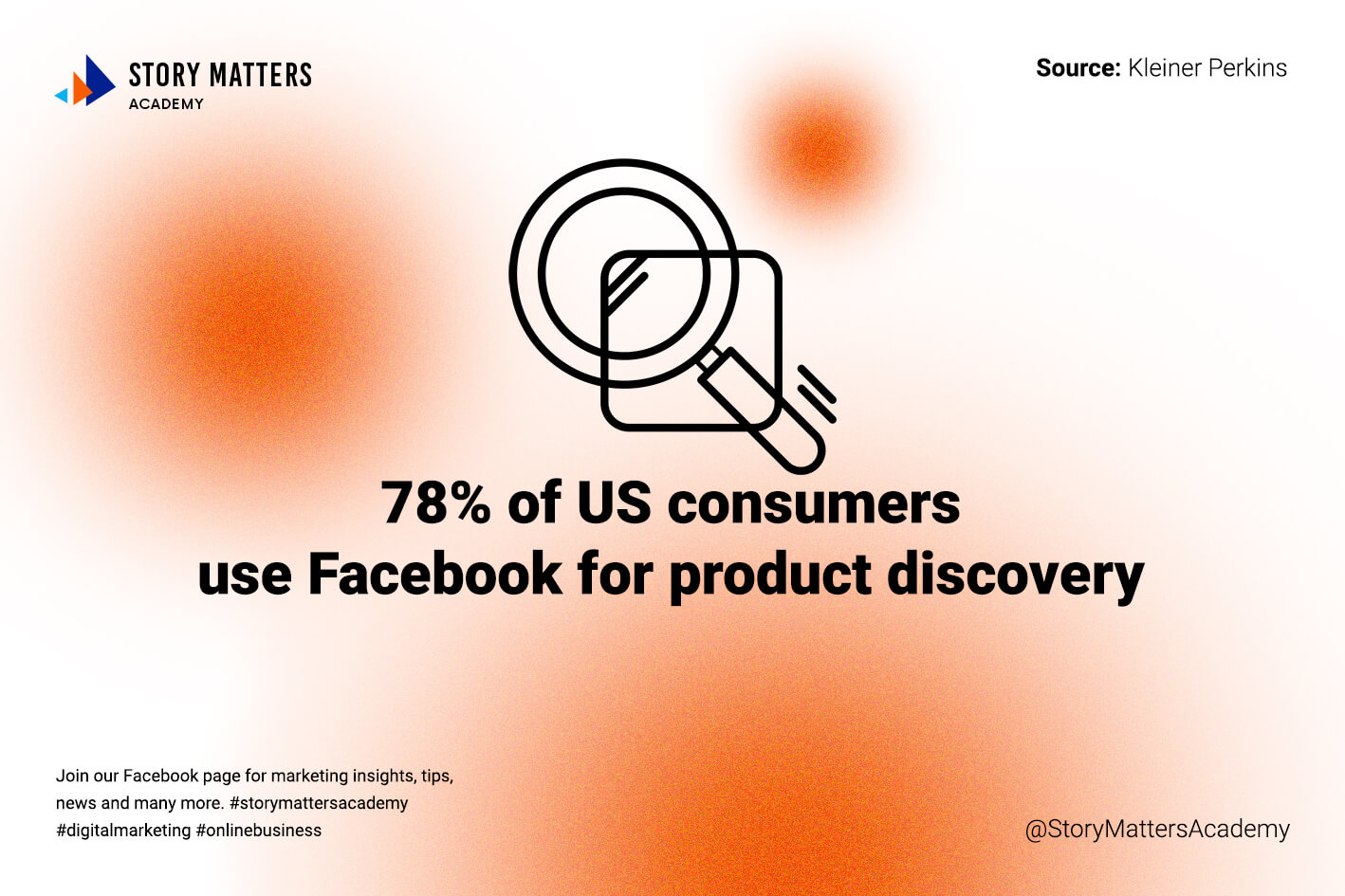 In addition, the use of Facebook advertising allows you to create your own audience base of potential customers. By creating different audience segments in Facebook Ads Manager, you can spread your ad messages more directly. And using Lookalike Audience, as using retargeting tools, will further increase the effectiveness of advertising campaigns.
#5.

LinkedIn Leaning More To Video
LinkedIn has over 774 million users, with roughly a quarter of them being U.S. internet users. Last year LinkedIn launched Creator Mode, which is more than just a tool — it's a way to encourage and support people and businesses to post more original content.
Here's What You Will Get With Creator Mode:
Profile will be converted to a subscription account and you will eligible to appear on the list of suggested authors.

Get access to all the new tools for creators available on LinkedIn.

Creator Hub will give you early access to new features.

You will have the option to post a LinkedIn newsletter to make your content more visible.

Get access to LinkedIn Live without going through the application process.

You may add a list of up to 5 hashtags, which appears prominently just below your LinkedIn headline.

LinkedIn will highlight your posts and displays likes and comments.
But top LinkedIn's prediction for 2022 is that video marketing on the platform will become more efficient and cost-effective. Video is the second most-used content type on social media used to increase audience engagement.
Therefore, LinkedIn is expected to launch a short video feature similar to Instagram Reels and TikTok. The feature was announced in 2021 when LinkedIn ended support for Stories and acquired an app for educational videos called Jumprope.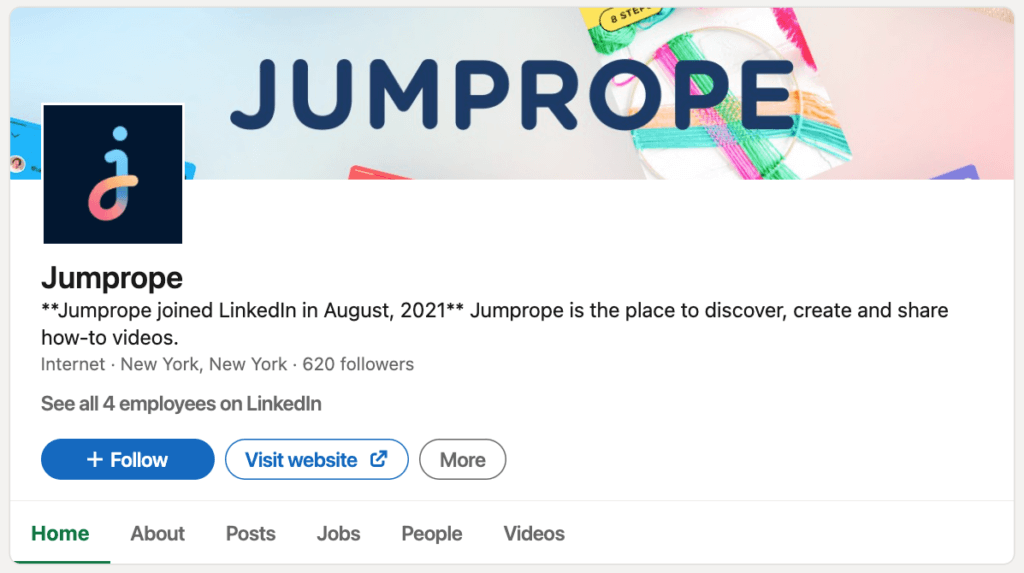 #6.

Podcasting Will Become More Relevant
Using podcasting in your digital marketing strategy can be an extremely powerful tactic for your business. 28% of the U.S. population over 12 years old listens to podcasts on a weekly basis. The average listener listens to eight podcasts a week.
You can create your own podcast, which will cover topics of interest to your audience, invite experts from your field for an interview or collaborate with other programs that have similar to your audience.
Another way of interacting business with podcasts is to use podcasts as advertising platforms. Even if you do not have your own podcast, you can contact the authors of existing programs to place your ad in future shows.
The podcast market has a number of advantages for advertising placement: podcast ads are more effective than video ads, the audience of audio programs has not yet developed resistance to ads, and the podcast format itself assumes 100% listening to the ad.
#7.

AI Automation
Companies are increasingly turning to Artificial Intelligence (AI) automation to excel, survive or cushion the blow to their revenues. A whopping 70% of marketing professionals currently use automation. Meanwhile, 33% of marketers who don't use it, plan to implement it in 2022.
According to another report, 28% of marketers use AI for product recommendations and 26% for optimizing their campaigns. In addition, specialists use AI automation to collect and study data, as well as to automate marketing-related processes.
AI leverages historic sales and marketing data to predict the customer's next step in the sales cycle. This allows to optimize their customer journey, improving weak points and gaps in the process.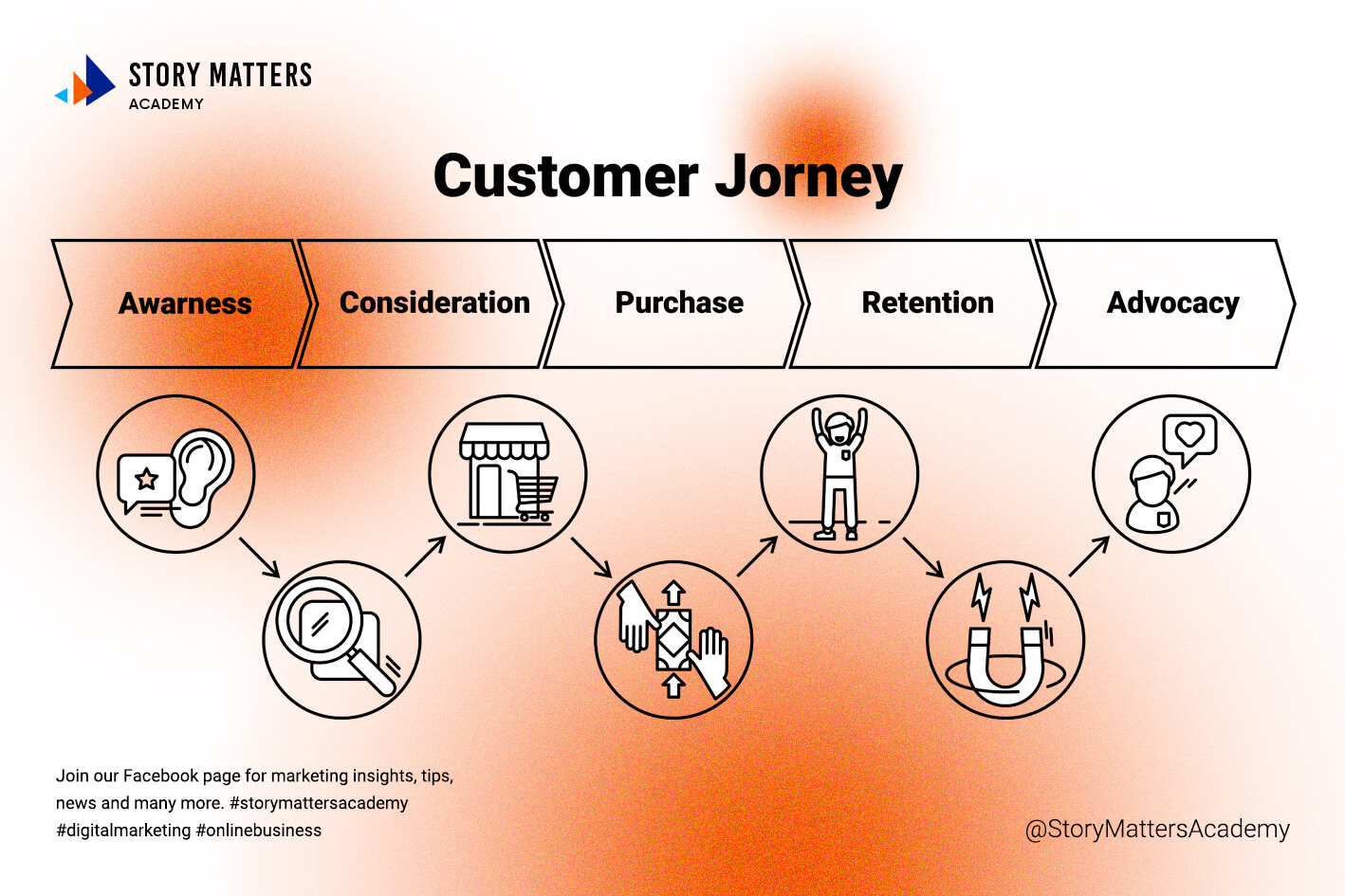 Also, AI can be useful for creative tasks, such as headline and copy creation, logo designs, and email newsletter generation. It analyses data from past customer interactions to "learn" how to carry out these tasks effectively and create relevant content.
#8.

Visual And Voice Search
The popularity of digital assistants such as Google Assistant and Alexa is steadily growing. As of 2020, 62% of Americans said they have used some kind of voice assistance technology. And 52% of voice-assistant users say they use voice tech several times a day or nearly every day.
Trends show that voice search users are increasingly looking for nearby establishments or places. Last year alone, 58% of consumers used this tool to find local businesses.
The difference between voice and written information search is that when writing a query, the client writes up to 10 words, and when a voice — up to 30. If the answer to the question is spread throughout the text, most likely, your site will not be at the top.
It is worth considering the adaptability of the mobile version of your site because most users use a voice assistant from a smartphone. It is important to ensure the adaptability of site images to different devices, the ability to quickly purchase (preferably in one click) and unloaded pages.
According to a Google report, 52% of voice assistant owners are interested in getting information about deals, sales, and promotions from companies. It proves that consumers are open to building relationships with brands through voice channels.
Conclusion
The digital world is constantly changing. And if you run a business online you shouldn't ignore it.
Using digital marketing trends for your business gives you a competitive advantage and helps to get clients through new channels. Therefore, it is better to reconsider your digital marketing strategy and make changes if it is necessary.
P.S.: Read our article to learn how to build a winning marketing strategy for your business! Click here to read.
---
Build a Marketing Strategy for your Story-Based Funnel
2 х 180-minute amazing video training, StoryTelling Welcome sequence, 1-on-1 Strategy Call, 8 Funnel Blueprints, Resource guide & much more…
$563 in Value, JUST $27 USD!